Addams Family: Mystery Mansion Mod Apk Hack & Guide

gsc

5997

2022-12-05
Addams Family: Mystery Mansion Mod Apk is a brand new casual game based on the cartoon Addams Family from PIXOWL INC. Pixowl Inc. is the publisher of the game Goosebumps – HorrowTown. In this game, you can collect characters like Morticia, Gomez, Wednesday, Pugsley, Uncle Fester, and Grandma. Join the creepy Addams family as they decorate their mysterious mansion and give their creepy home a new look. Players can interact with all characters in the game. Your goal as the player is to unlock all the rooms in the mansion and get all the characters.
Players can use diamonds and coins to unlock clothes, craft things, unlock rooms and furniture, and more. So how do you unlock characters and clothes? Next, I will explain to the players.
How to Get Characters and Clothes
Players can obtain characters and their outfits from Kooky Boxes and unlock their rooms. Kooky Boxes can be obtained by playing the game or in the store. You can spend rubies on these boxes. All characters in the Addams Family game have four costumes; Common, Rare, Epic, and Legendary. And, to unlock all of these outfits or a specific character, you need a certain number of cards.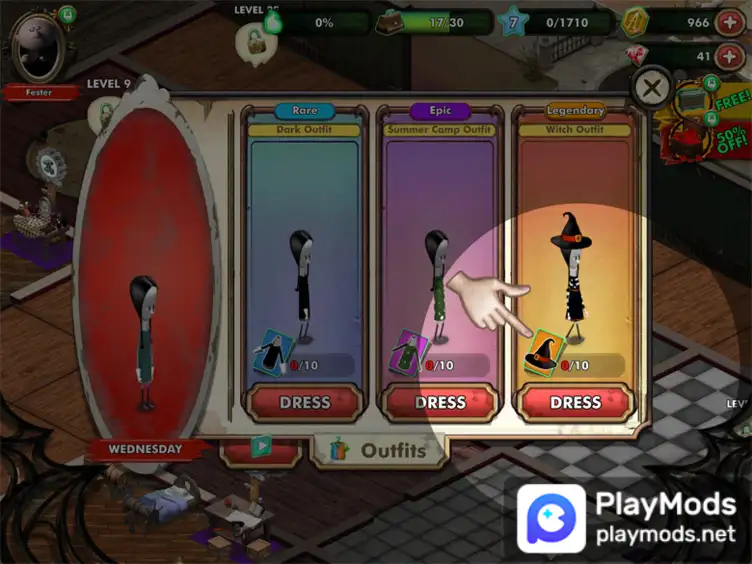 How to Get More Rubies
1. Get rubies by binding your Facebook account: In the lower right corner of the screen, click the crystal ball icon -> Bind the game with your Facebook account. After linking the account with the game, the player will get 25 rubies for free.
2. Visit a friend's house
3. Download the cracked version provided by PlayMods for players. In the cracked version, players can have endless coins and money, and can easily unlock all items: Addams Family: Mystery Mansion Mod Apk (Unlimited Coins)
4. Earn rubies for watched video ads
5. Complete more tasks
If you think this game is not enough for you, then you can try some popular similar games that I have listed below.
Harry Potter: Hogwarts Mystery Mod Apk (Mod Menu)
Scary Teacher 3D Mod Apk (Mod Menu)
My PlayHome Stores Mod Apk (Remove Ads / Don't Watch Ads to Get Rewards)
Search playmods for more mod games: www.playmods.net