Vampire Survivors Mod Apk Download & Guide

gsc

7198

2022-12-14
Vampire Survivors Mod Apk is a Dungeon Time Survival Pixel RPG. The main goal of the game is to survive for 30 minutes. Players choose a character, and a stage, and try to keep that character alive as enemies rush towards the player in increasing numbers and difficulty. As players slay thousands of enemy creatures and level up their characters, new weapons and accessories will be earned.
Free Download
If you are looking for a hacked version of this game, then you are in the right place. PlayMods has prepared a cracked version of this game for players. In the cracked version, players can turn on God mode and get unlimited money: Vampire Survivors Mod Apk (Mod Menu)
In Vampire Survivors, your mission is to survive seemingly endless waves of terrifying enemies. Although this game looks like a simple survival action game, you may find it very difficult to defeat the horde in 30 minutes, especially if you are new to it. In this article, you'll find tips and strategies that will allow you to plan more effectively and help you understand the nuances of the game's mechanics to successfully fend off the never-ending torrent of enemies.
Don't Be Defensive
When playing survival games, you may find that you are born to play defense games and avoid incoming enemies. But in this game, that approach ends up leaving you vulnerable and underpowered as the horde grows in number and power. So instead of trying to survive by running away from monsters, it's better to wipe out the enemies. Destroying as many enemies as possible will allow you to accumulate experience gems and safe chests, which will allow you to improve your stats and weaponry.
*Players are better off not picking or upgrading defensive items first, but choosing and upgrading weapons with high damage output. Your high DPS output will put you in a better position to fight back against the horde, because if you don't have the damage output to kill the scarier late-game enemies, your defensive stats will eventually not be able to counter the incoming damage.
Use Items Strategically
In addition to XP gems and coins, you'll eventually come across some special items that spawn as loot. These items are very powerful and offer abilities such as a flamethrower, the ability to freeze time, and a magnet that attracts all XP gems in the area. With the game-changing power of these rare items, you may feel the urge to collect them as soon as possible, but try to avoid them until then. For example, if a flamethrower special item spawns, and the enemy group is relatively benign and non-threatening, you should wait to collect it until you're surrounded by enough enemies to maximize the item's output.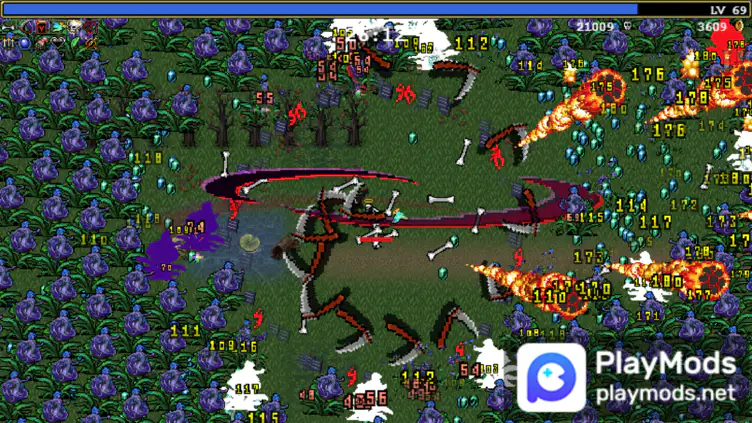 Unlock Merchant
There is a Merchant in Vampire Survivors Mod Apk. However, it needs to be unlocked before it can appear. The merchant will sell the player some of the rarer weapons in the game, as well as an additional secret. Merchants also sell Golden Eggs: Which permanently boosts one of the character's stats. Novice players please unlock the merchant as soon as possible. Another thing to keep in mind is that merchants can only be accessed once per run. If the player is having trouble escaping and still has empty weapon slots, the merchant should be used as soon as possible.
Hyper Mode
It sounds daunting, but Hyper Mode isn't really harder in the game. In many ways, it's easier than standard mode. Increased player and enemy speed allows players to level up faster. It's not uncommon for all weapons and accessories to be fully upgraded and evolved before the 15-minute mark. Getting better unlockable characters like Poppea, Christine, Cavallo and Dommario will also have a better chance of surviving Hyper Mode.
Search playmods for more mod games: www.playmods.net