Avatar Reckoning Mobile - Release Date & Gameplay & More

gsc

1164

2023-05-25
Avatar Reckoning Mobile is an MMORPG where you embark on a journey through space to Pandora and get ready to dive into James Cameron's saga.
Avatar Reckoning Mobile Game Background
The story takes place after the events of the first film after the RDA returns to Pandora. While no year is provided, this means it must be set in the late 2160s or later. The story takes place in never-before-seen parts of the planet Pandora, where players will meet the new Na'vi tribe as they fight to defend their homeland and compete with the RDA for resources. These clans include the Hulanta clan and the Rey'tanu clan. The plot is classic but doesn't tie into the events of the movie. On this fictional planet, you'll meet the Na'vi, an alien species facing multiple threats. The game's protagonists are given the default callsign of the Raven, and the game's plot revolves around their mission to uncover the truth of what happened to their parents, who went missing after their Samson ship was attacked and crashed into the jungle. As you play the game, you'll experience iconic scenes from one of the highest-grossing franchises in film history.
Avatar Reckoning Mobile Highlights
Avatar: Reckoning offers spectacular animation and 3D graphics developed with Unreal Engine 4 technology. The game features both single-player and co-op, with both PVE and PVP modes. The player can create his avatar which can be upgraded and equipped with gear and weapons. Players join the Na'vi clan as they fight off wave after wave of RDA forces in both single-player and multiplayer matches. Keep in mind that the requirements of this engine require a powerful smartphone for the game to run smoothly. That said, this sense of realism makes the game incredibly immersive.
How to play Avatar Reckoning Mobile
Before starting, you can customize your Na'vi character. Once this is done, you can start exploring Pandora and continue your adventure. But be careful, because as you discover new areas of the map, you'll also encounter enemies and get into intense battles.
To move your Na'vi, tap the virtual D-pad, and to use your weapon, tap the action button. As you level up, you can unlock more powerful weapons to help you destroy various monsters. You can even use the telescopic sight to spot enemies from afar.
Avatar Reckoning Mobile Features
Avatar: Reckoning immerses you in the Avatar universe, where you can go on new adventures where the Na'vi, humans and monsters face each other in brutal battles. Use your weapons to your advantage as you complete quests and travel through each area of Pandora. At the end of the day, the survival of this alien species is in your hands.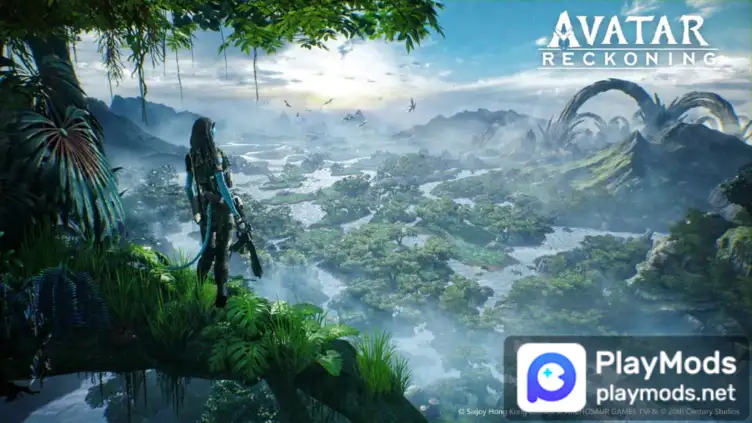 Avatar Reckoning Mobile Release Date
Avatar Reckoning was officially announced on January 13, 2022, with a closed beta planned for Canada that same month. Developer Archosaur Games, a mainland China-based company specializing in mobile MMO development, is backed by Tencent, Perfect World and Sixjoy Hong Kong Limited. The first closed beta began in Canada on January 24 and lasted 10 days. The official trailer for the game was released on June 27, 2022, and mentions that the game has been delayed from its 2022 release to 2023.
If you want to play similar games, you can download the three games below first.
ARK: Survival Evolved Mod Apk Download
Project Stars Mod APK Download
Search playmods for more mod games: www.playmods.net