Battle Cats x Fate/Stay Night Collab Returns

gsc

7804

2023-04-13
Battle Cats APK is back with the latest collaboration with Fate/Stay Night. The game also offers players a plethora of items to collect in this wacky gashapon strategy mobile game.
How to Download the Latest Version of Battle Cats Mod APK
Click on the download link that PlayMods prepares for players to quickly download the game. PlayMods also provides players with a cracked version of the game. Players can get unlimited currency in the cracked version provided by PlayMods, which can be used to buy and upgrade their own equipment and cats. The cracked version provides players with a lot of cat food, XP and props. And the base level of all cats is level three: Battle Cats Mod APK
Lots of exciting stages for players of all skill levels to enjoy
Players can choose from a limited collection of co-op capsules that grant them 14 Fate/stay night Heaven's Feel heroes for their Cat Army. These characters, including Sakura Matou, can evolve into powerful true forms and are available in the Rare, Super Rare, and Super Rare versions.
During the event, there will be a challenge called "Melee: Servant Attack"! In the Arena of Honor. This is only for co-op, the Fate/stay night [Heaven's Feel] characters will constantly attack your cat base. As you defeat more enemies, your score increases. You can also compete with other Battle Cats players worldwide on Catclaw Dojo's leaderboards for the highest score and earn better rewards as you climb higher.
Players who log in every day during the Fate/Stay Night Heaven's Feel collaboration event will receive stamps and rewards. Collecting 5 stamps will unlock Saber the Cat, and collecting 10 stamps will unlock Shirou the Cat as a special co-op unit.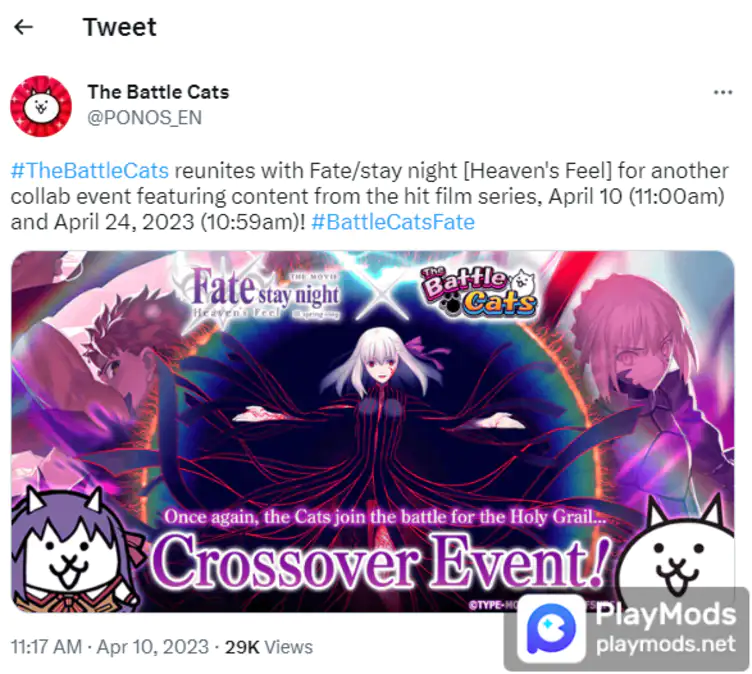 If you like this game then you can also try Stick War Legacy Mod Apk
Search playmods for more mod games: www.playmods.net