Cookie Run Kingdom v4.3 Update Triple Cone Cup - New Cookies & Events

gsc

7710

2023-03-31
Cookie Run Kingdom Mod APK has released the latest version 4.3 - Triple Cone Cup on March 30, 2023. Additionally, new updates release new cookies, limited-time events, magic candies, and other updates. This article will explain this update in detail for you.
How to Download Cookie Run Kingdom Mod APK v4.3
Click the download link provided by PlayMods to download the latest version: Cookie Run Kingdom Mod APK v4.3
Cookie Run Kingdom Mod APK v4.3 Updates
1. New Cookies - Capsaicin Cookie & Prune Juice Cookie
2. New magic candy - Mala Sauce Cookie
3. New change - Chili Pepper Cookie
4. New Treasure - Blossoming Acorn Bomb
5. New Mechanism - Triple Cone Cup
6. New Events - Magma Gacha, Squirrel Shop return, Happy April Fools! Romance Kingdom,
7. Mileage Store - Galaxy Cookie Soul Stone
Cookie Run: Kingdom v4.3 Update New Cookies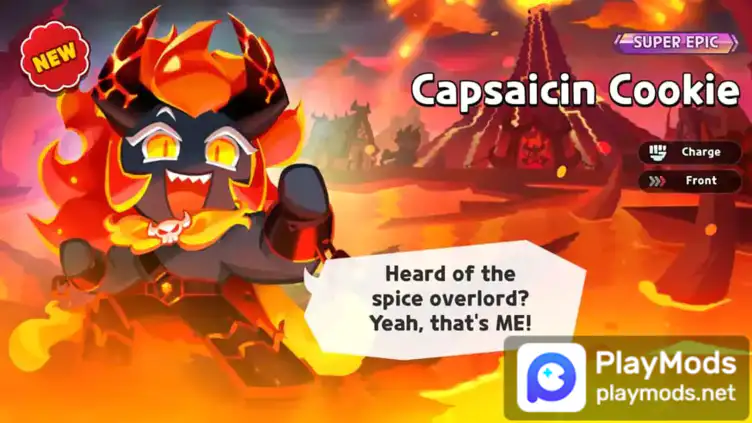 Capsaicin Cookie changes with the surge of magma. While transformed, his regular attacks cause lava eruptions, inflicting the Burn and Lava debuffs on enemies. The magma debuff increases the DMG of the fire type. After transforming, Capsaicin Cookie resists interruption effects for a short period of time. The transformed Capsaicin Cookie will enter Spice Overlord mode, bringing all the mighty power of magma for the final blow. If he is immobilized in battle, he becomes immortal, removes his negative status, and cannot be immobilized for a certain period of time. Capsaicin Biscuit's first skill cooldown will be shortened, allowing skills to be used faster.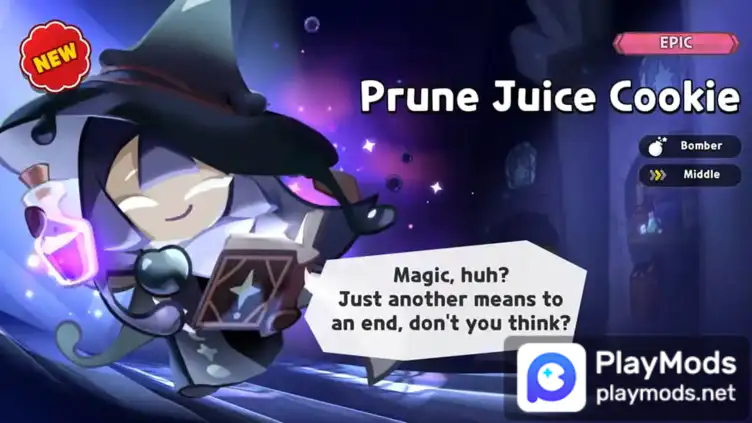 Prune Juice Cookie's regular attack is to throw a prune juice bottle at the furthest enemy, poisoning the target and nearby enemies. When using his ability, Prune Cookie throws a giant prune bottle filled with poison. When the bottle breaks, it causes a poisoned DMG boost, sticky slime, poison and summons prune jelly. Summoned Prune Jelly's HP will decrease based on the number of hits. The summoned prune jelly will occasionally spread prune gas, poisoning nearby enemies. The summoned Prune Jelly is composed of poison, immune to any type of periodic effect, and unaffected by shields or healing.
A limited-time event
The Triple Cone Cup is a historic event that has been around since Earthbread's three schools were founded. There is the unique and prestigious school of mages, Parfaedia, the school of noble paladins with the most victories, the Crème Knights, and the fiery school of warriors, Scovillia! Enter the Triple Cone Cup and compete in different competitions to find out the strongest school. Students are divided into three schools according to their abilities and characteristics. You cannot change schools during the Triple Cone Cup.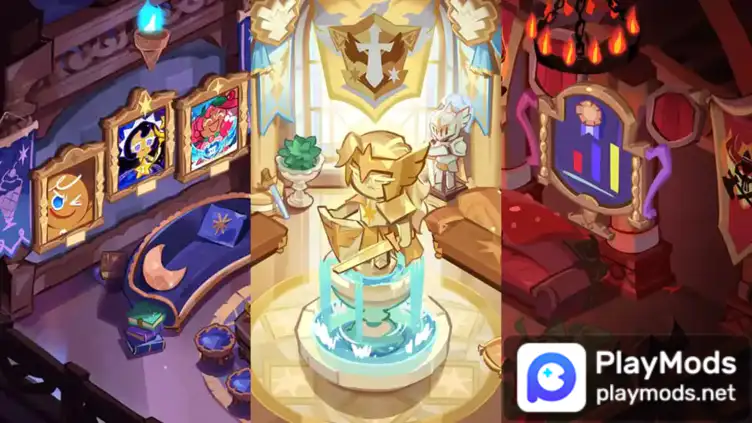 The Triple Cone consists of 7 seasons. A season consists of the regular event "Fight for the Flag" and seasonal events that change each season. Your Season Rank and Contribution Rank will be determined by the total points earned by your classmates in regular and seasonal activities. You can get ranking rewards based on your ranking. The school with the highest score over 7 seasons wins the Triple Cone Cup. A Triple Cone Cup season lasts for one week. Students from the winning school will receive crystals, titles, decorations, profiles and various other rewards.
Sugar Sweet Destiny
Kingdom High's sweet love story is now available in Kingdom High! Let's spend their campus life under the cherry blossoms with the excited Cookies!
Magic Candy – Mala Sauce
Mala Sauce finally gets a huge buff as she finally gets her own magic candy along with more buffs for her kit. With the launch of the Spicy Sauce Cookie Magic Candy, some attributes of the Spicy Sauce Cookie will be adjusted to give full play to the effect of the Magic Candy.
Treasure - Blooming Acorn Bomb
A special treasure will be released in a new update called "Blooming Acorn Bomb". There is a chance to get a new special treasure "Blooming Acorn Bomb" from the Acorn Gacha. The acorn bomb blossoms into a flower, cursing 2 random enemies (excluding the boss) to turn into acorns for a period of time, and causing damage equal to the total attack power. Additional DEF reduction for cursed targets.
If you like this game, then you can't miss Cookie Run: OvenBreak Mod Apk
Search playmods for more mod games: www.playmods.net