PlayMods Melon Tool is Now Available in Google Play

gsc

5793

2023-05-29
Melon Playground mods tool made by PlayMods is now available on Google Play! Come and download and experience the most convenient melon playground mod tool!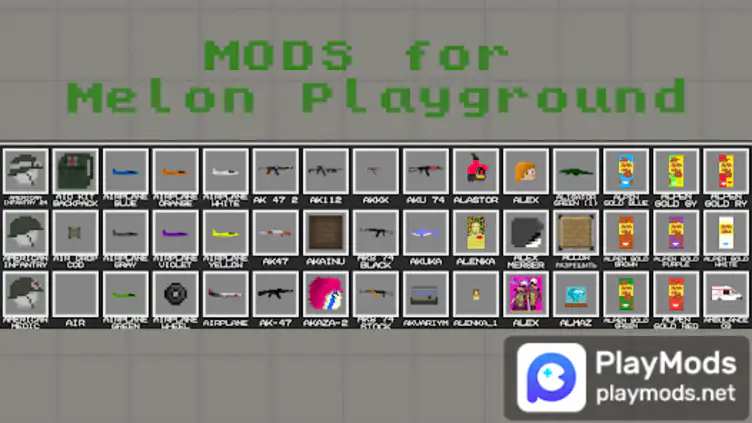 What is Melon Playground Mod Tool
PlayMods collects different kinds of high-quality Melon Playground mods for players, such as character mods, weapon mods, building mods, item mods, and more.
How to Download the Melon Playground Mod Tool
Click the link to know more about this app: Melon Playground Mods in Google Play
Click the link to quickly download Melon Playground Mod Tool: Melon Playground Mods Mod APK Download
What's in the Melon Playground Mod Tool
Players can find all popular mods such as Football, Doom, SCP, VHS Sans, Undertale, Jotaru and Star Platinum, Avatar, Modern Artillery, Mutants, Poppy Playtime, Kraken, Lightsabers, Raptor, Bendy, Choo Choo Charles, Spider Xia and many others.
If you are looking for fun melon mods, you should definitely download and experience our app.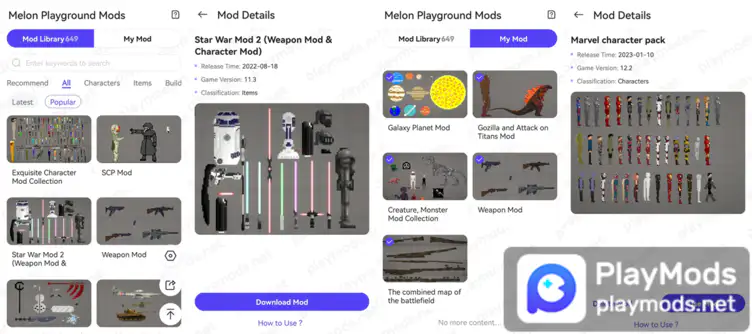 Melon Playground Mod Tool Main Features
1. Easy-to-use user interface
2. Selected categories of various mods
3. Hundreds of featured modules
4. The module is easy to use: players can download the module they want with just one click, and open the module directly in the game
5. Regularly update interesting and high-quality mods
If you think this app is very useful, then I recommend the following two useful game tools.
Car build ideas for Minecraft Mod APK Download
Amazing Minecraft house ideas Mod APK Download
Search playmods for more mod games: www.playmods.net