Project Evo Beta Test Pre-Register & Gameplay & More

gsc

13642

2022-11-16
PROJECT EVO is the first mobile survival game built on Unreal Engine 5. Alpha testing will begin on July 31 at 8:00 AM (UTC-4).
The world is ruined. Fight for embers, fight for survival! In this open world called Emberland, the only goal is to survive... until the very end. Danger lurks around every corner and everything wants you dead. You must survive the cutthroat competition - not only against various mutant creatures but also against hundreds of other desperate players. Remember, by all means, all will work out! Staying alive is always the goal of the game. The light of Ember is guiding your path. Embark on this amazing journey, now! According to Laser Edge Studios, Project Evo will be a free-to-play skill-based game, and the game won't have any purchasable advantages, as they want to make sure the gaming experience is equal for everyone.
Registration for the Beta is now open! The beta will start on December 1, 2022. We'll be emailing over 3,300 lucky players to receive a Beta access code every Tuesday starting November 29, 2022. *Beta access code sent to the email address you provided on the questionnaire.
Precautions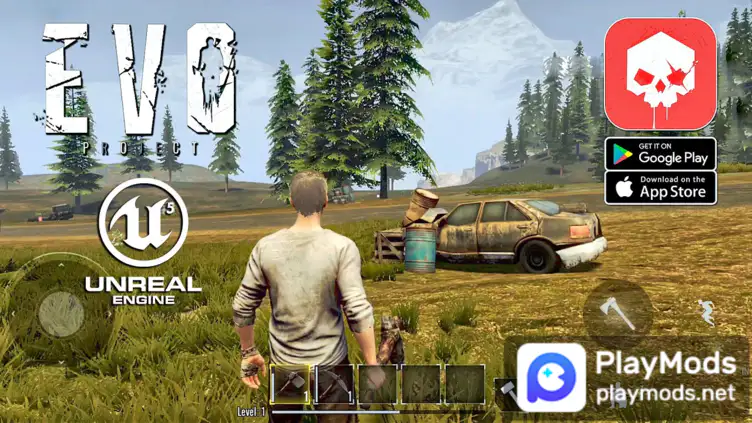 1. Beta is currently only available for Android mobile devices. The iOS version is still in development and does not allow emulators to be used on PC.
2. The Beta version is open to global players, and language support includes English, Spanish, Portuguese, Russian, and Thai.
How to pre-register
The developer of Project Evo has announced that the game will be released in 2022, but the Alpha test of the game has already begun, and interested players can pre-register for the game and get some exclusive rewards. If you're excited to experience the new upcoming survival game, here are the full details. As mentioned, Project Evo is currently in alpha testing, but pre-registration for the game's official launch has already begun. Here are the steps to register for pre-registration:
1. Visit the official Project Evo website.
2. Click the Pre-Register Now button.
3. Fill in your email address, then read and accept the Privacy Policy.
4. Successfully pre-registered with Project Evo.
*You will be notified by email once the game is available.

How to get the pre-registration bonus
The developers have decided that you will be rewarded if you pre-register for Project Evo's official launch. Once the game is launched, you will receive a redemption code on your registered email id, then redeem the code to get rewards. Here are all the rewards for pre-registration:
1. Exclusive Avatar frame for beta testers
2. Supernova Steel Axe
3. Supernove Steel Pickaxe

Game Features
1. Deserts, forests, snowfields, mountains, and ghost towns
2. Explore a vast open world where, by chance, you will uncover this breathtaking and immersive post-apocalyptic world
3. Real-time weather system
4. Menacing opponents, terrifying creatures that will tear you apart
Gameplay
1. Survive in the hostile wilderness and obtain resources: To maintain health, you must keep an eye on your body indicators while obtaining resources by farming, crafting, cooking, and even killing. Empowering yourself to ensure victory over all potential enemies is crucial. Infiltrate or raid other survivors' shelters. Loot valuable resources, then destroy everything they build before they can retaliate.
2. Build a Shelter: Life is tough here, and survivors will always need a place to call home. You can build your shelter from scratch anywhere and design every detail to your liking. But at the same time, foundation design needs to be highly strategic. You must consider all factors in advance, including location, consumption cost, sturdiness, expandability, construction, and set up security to avoid your shelter from being raided by other ruthless survivors. Otherwise, you may find yourself unexpectedly having to start over at any given time.
3. Team up wisely and be careful not to be betrayed by others: Hundreds of players gather in this large online world. To be the last man standing, it is always recommended to team up with other survivors. However, as in every survival story, you never know if the so-called "friends" you meet here will be true allies or just enemies waiting to murder you. Be careful about sharing absolute access to your base, some of them may betray you in due course.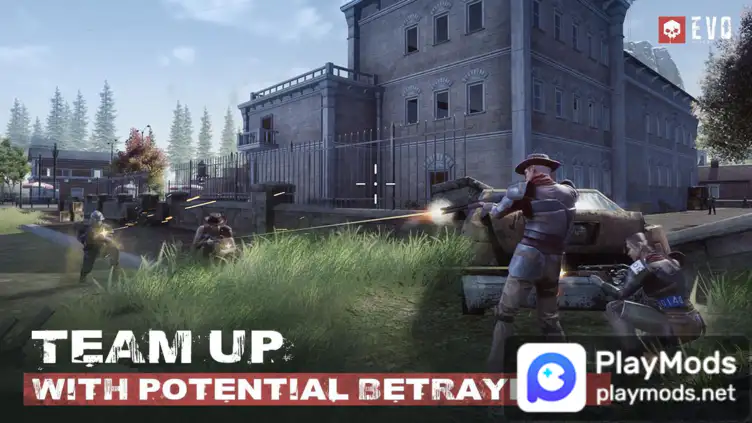 The developer hasn't revealed any specific release date yet. However, once the latest information is available, Playmods will update players with the latest content as soon as possible. If you can't wait to play this game, you can try these two survival games I recommend first.
ARK Survival Evolved Mod Apk v2.0.25 (MOD)
Last Day on Earth Survival Mod Apk v1.19.9 (Mod Menu)
Find more games at Playmods: www.playmods.net