PUBG MOBILE Mod APK Update v2.4.0

gsc

5227

2023-01-09
PUBG MOBILE Mod APK version v2.4.0 was released on January 6, 2023, and includes a series of unique gear updates, skill updates, gun and vehicle upgrades, and more. The highlight of version 2.4 will be the martial arts theme mode, and players around the world will be able to experience the splendor of oriental martial arts together. Additionally, Gear Front mode returns in 2.4. Next, let's take a closer look at the details of this update!
How to Download PUBG MOBILE Mod APK v2.4.0
Don't know how to download the latest version of the game? Don't worry, PlayMods has prepared the download link of the latest version of the game for players: PUBG MOBILE Mod Apk v2.4.0
In anticipation of the Chinese New Year, PUBG MOBILE has teamed up with famous Chinese martial artist Bruce Lee to create a new Battle Challenge-themed mode. The new Martial Arts Show event is where you can earn unique items, take part in exciting events and explore the vast regions of Erangel and Livik. Players will be able to use the fast lion vehicle stored in the backpack to move quickly on the battlefield with friends by jumping or accelerating. New items include a grappling hook to help you get out of trouble, and the hunting bow, a ranged weapon that allows you to attack stealthily and deal damage with normal arrows and explosives.
PUBG MOBILE X Bruce Lee Collaboration Begins January 10th
PUBG MOBILE Mod APK v2.4.0 collaboration event with international martial arts master Bruce Lee will be held on January 10th. Players will receive different iconic Bruce Lee looks, including the Bruce Lee Kung Fu Soul Suit, Melee Expert Suit, and Mr. Kung Fu Suit, as well as a series of Bruce Lee-themed emotes, vehicles, parachutes, and more items. From January 10th to January 26th, players can participate in the Dreamland Apprentice event and get exclusive rewards through challenges and trials.
New map Misty Port in the improved Metro Royale mode
A new map: Port Misty will enter a revamped Metro Royale mode on January 9th, with more supplies, transport routes, and NPC enemies and bosses for a better PvE experience. Players can get raffle packs for Premium Gun Packs and Premium Armor Packs in Metro Royale's Black Market, and can also be purchased with Metro Cash. The new map of version 2.4 also adds new equipment and props.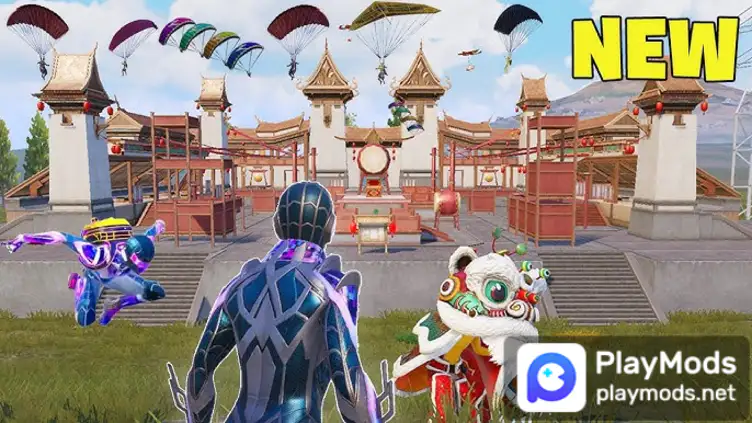 Gear Front returns in this update
Gear Front is back in PUBG MOBILE 2.4! For players who have missed the mode for a long time, this will be exciting news. In the new Gear Front, two cool abilities have been added for added strategic depth. Player Launcher launches you in seconds with the orientation you set. Tactical camouflage will help you better hide in the jungle without being notified by other players.
Gun and Vehicle Improvements
This update of PUBG MOBILE Mod APK v2.4.0 also brings new guns and vehicles. The new AAC Honey Badger is great for close-quarters combat with the 7.62mm round, and the Erangel, Sanhok, and Livik will provide high rates of fire. Miramar, Livik and Erangel present a new 2-seater bike that allows players to ride with friends. Additionally, Polaris side-by-side vehicles have entered the field. Players can look forward to more weapons and vehicles to choose from in the 2.4 updates.
Search playmods for more mod games: www.playmods.net