Genshin Impact 4.0 Redeem Codes September 2

gsc

1837

2023-09-02
Genshin Impact 4.0 brings out various new character banners, new weapons and new events to travelers. Here in this article, you will find valid Genshin Impact redeem codes to claim Primogems, Mora, and many other precious items.
How to Download the Latest Genshin Impact 4.0 Mod APK
Click the link to download the latest version of this game: Genshin Impact 4.0 Mod APK Downlaod
Genshin Impact Redeem Codes
Here's the list of current Genshin Impact codes:
RS9MLR5553UH: 30k Mora, 1 Crab Roe Kourayaki, 1 Berry & Mint Burst, and 1 Mint Jelly
NS92PG6DB52M: Redeem to get 60 Primogems and 5 Hero's Wit
WTQ2E83WS869: Redeem to get 60 Primogems and 5 Adventurer's Experience
GENSHINGIFT: Redeem to get 50 Primogems and three Hero's Wit (this code works periodically)

How to Redeem Genshin Impact Codes
Method 1: Visit the official page to redeem.
Method 2: Redeem codes when you are playing Genshin Impact. Go to "Setting" -> " Account" -> "Redeem Code". Then, enter codes and check rewards in "Mail".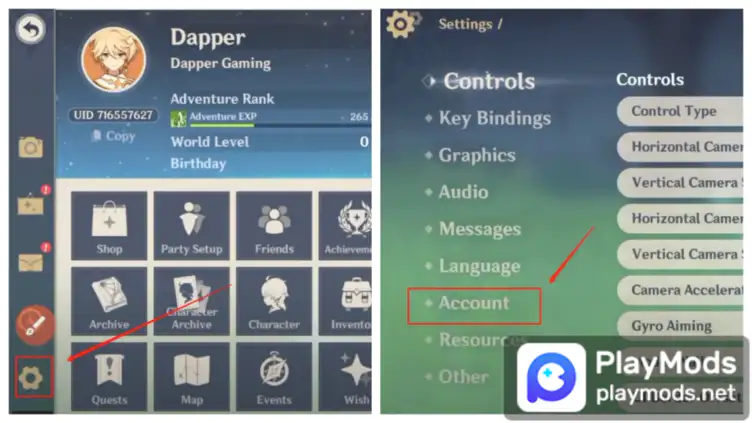 However, according to some responses, a part of players do not have a "Redeem Code", please click "User Centre". A webpage will appear and please enter your User ID number and linked email address. Next, enter the following info in the pic.
Note: Players should notice that you can redeem these codes with a level of at least Adventure Rank 10. If you have not reached 10 levels, come to finish tasks to level up.
If you like this game, you can try the games below.
Honkai: Star Rail Mod Apk Downlaod
Clash of Clans Mod Apk Downlaod
Search playmods for more mod games: www.playmods.net