 Bouncemasters Mod Apk v1.5.4 (Unlimited Money)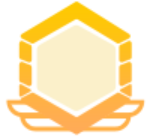 5.2

MOD Info :
Unlimited Money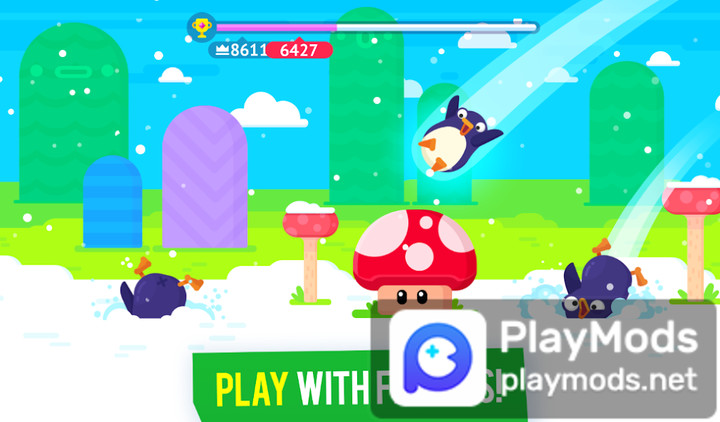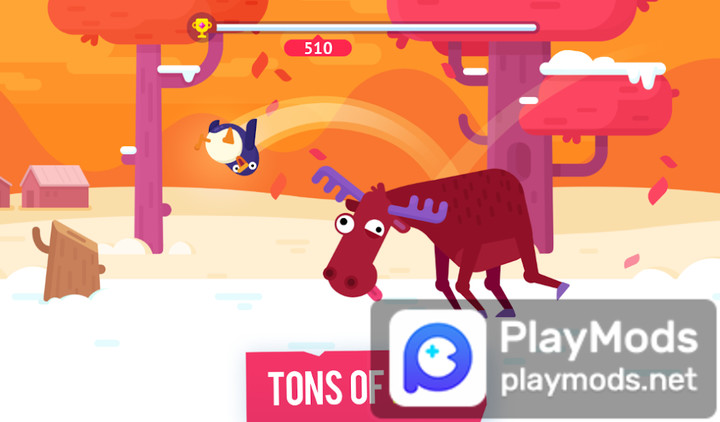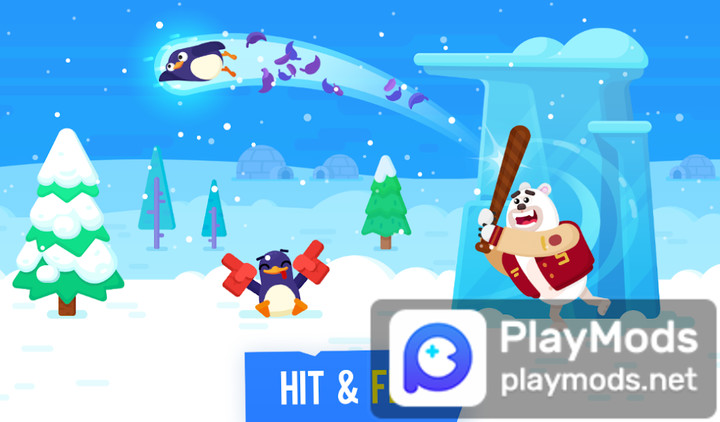 The description of Bouncemasters
Unlimited Money
About Bouncemasters Mod Apk
Bouncemasters Mod Apk is a super fun bounce flying game. The polar bear wearing a baseball uniform, in order to fulfill the dream of a penguin in the Antarctic to meet a beauty penguin on vacation in the tropics, hit the penguin into the air with a bat. The penguins flew out in a perfect parabola, and got the seals when he landed. With help, their bouncy bodies bounced the penguin into the air again. The strength of the polar bear's blow determines the height and angle of the penguin's flight. Only when it falls on the body of the seal can the penguin bounce as far as possible. During the flight, the penguin will also get bonus points such as gold coins and diamonds, which will make the little penguin's long journey more motivated.
How to Play Bouncemasters Mod Apk
In Bouncemasters Mod Apk, when the penguin jumps off the iceberg, click on the polar bear to swing the stick and shoot the penguin in a certain parabola. After the penguin flew out, it landed on the seal's belly and started bouncing on the next flight. The penguin may also fall on the chest, bounce again, until it runs out of power, and then falls into the snow and stops. The penguin may also encounter a rainbow during its flight, and the rainbow will again give the penguin the impetus to bounce, allowing it to fly further.
Features of Bouncemasters Mod Apk
Bouncemasters Mod Apk is an extremely cute game, which brings together the cute points of polar animals: penguins have the instinct of looking into the distance, so he finds a beauty penguin on vacation while looking into the distance, and penguins can't fly, so the little penguin in this game can only rely on his friends, polar bear and seals. These friends come to help him fly by bouncing. Seals have a lot of body fat and are soft and elastic, so they can act as a bouncing pad for penguins. The polar bear is like a strong baseball player, so it is the most suitable for it to play the "penguin ball". The game is smartly designed and funny, filled with all kinds of hilarious things to do. And polar bears have a variety of weapons and penguin has many boosters to choose from. You can also compete with the world for your jumping record, and the world's score list is in the game. Come and help the little penguin bounce and fly, support its dream, reaching the tropics as soon as possible, meeting the beauty penguin.
If you are also interested in such adventure games, then Bed Wars Mod Apk is also very suitable for you.
——Uploaded by the user
Show More

Bouncemasters
Unlimited Money
1.5.4 Update
Show More

Category: Adventure Publisher: Playgendary Limited Requirements: Andriod 5.0+ Publish Date: 18/11/2022