The Secret of Outdoor Pools in Toca Life World

Ivy

11978

2022-08-12
Who doesn't want to cool off in an outdoor pool on a hot summer day? What fun things might happen in a scene like an outdoor pool? Or what secret is it hiding? Let's go adventure in the outdoor swimming pool of Toca Life World and see what funny things there have!
1. The gem hidden in the diving platform
There are two diving platforms by the wall at the far right of the swimming pool, and on the side of the higher diving platform there is a small cabinet with a blue gem hidden in it.
2. Harvesting coconuts
There are a few coconut trees by the pool, click and shake the coconut trees and you will be pleasantly surprised. You will get their fruit: sweet and delicious coconut. Break the coconut, you can drink coconut milk and eat coconut meat.
3. Lost underwater ring
I don't know which gentleman or lady was careless and dropped the ring into the pool. There are many stories here. And do we throw the ring back into the pool,or take it for ourselves, or be a warm-hearted Toca citizen and hand it over to the open-air pool management fee? These are all you choice.
4. a variety of swimsuits and swimming equipment
In the building to the left of the outdoor swimming pool, there is a blue warehouse full of beautiful swimsuits. The shelves are full of swimming goggles and diving equipment, as well as inflatable swimming rings and flotation pads that can be taken out to play in the pool.
5. Delicious ice cream and popsicles
You will notice that the outdoor swimming pool building has a yellow shutter door with an ice cream logo painted on it, and you can make your own ice cream when you open the door. And there is a refrigerator box for popsicles next to the loungers by the pool. Open the box and try one! Will it be sweet strawberry taste or sour pineapple taste?
Summer is so beautiful! Come and play in the outdoor pool with friends from Toca World!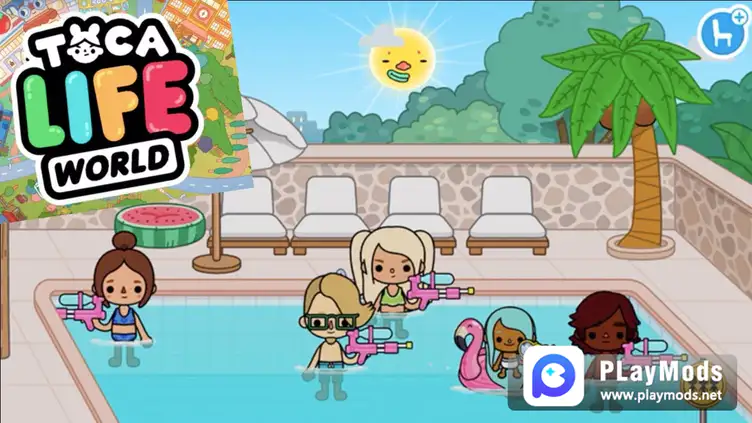 More details are in app: playmods