FIFA World Cup News December 14, 2022

gsc

5775

2022-12-14
Summary of Current Matches

In the semi-finals of the 2022 Qatar World Cup at the Lusail Stadium in Qatar, the Argentine team defeated the Croatian team 3-0 and advanced to the final. This game is a historic meeting. Messi is participating in his fifth World Cup and Modric is representing Croatia in his fourth World Cup. These two great players want to make new history.
Tomorrow's Schedule
France vs Morocco
The semi-finals of the 2022 World Cup in Qatar will stage a battle that attracts attention. The defending champion France led by Mbappe will face Morocco, the biggest dark horse team in the World Cup.
First of all, although Morocco is a civilian team, it has strong discipline, excellent tactical quality, and is good at playing against the wind. More importantly, Morocco's defense line is rock-solid. In the first 5 games, they lost their own goal Besides, not a single ball was conceded in a positional battle. This may make the French team helpless. Once the game is dragged into overtime or a penalty shootout by Morocco, the balance of the game may be tilted towards them.
Secondly, Morocco not only has the terrible defensive ability, but also has pretty good foot skills, and the defensive counterattack is also very fast and efficient. Pulling out two "teeth" in Spain and Portugal in a row is enough to prove that Morocco is not an ordinary team. The French team has shortcomings in defense and concedes goals in almost every game. Once Morocco seizes a chance to counterattack quickly, the French team may become very passive.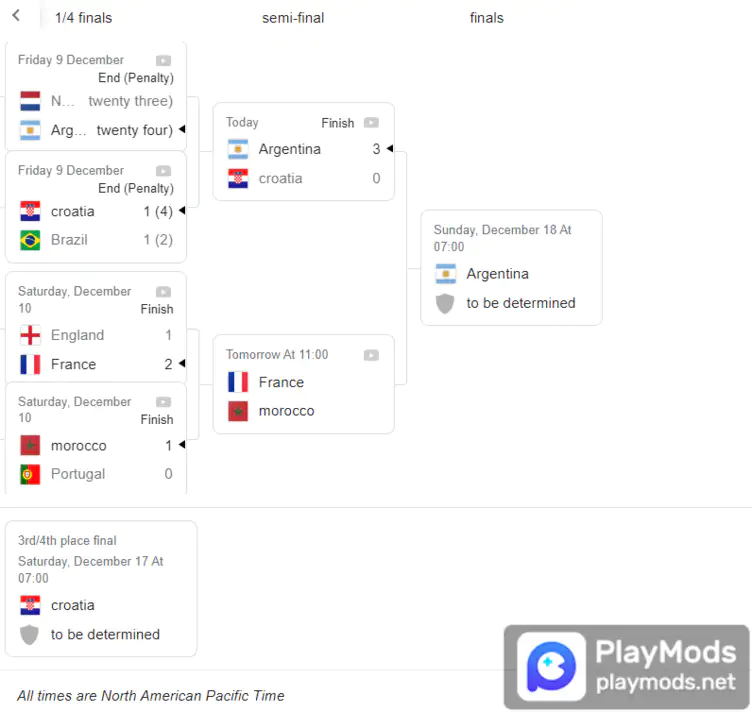 Are you looking forward to tomorrow's game result? Next, I will recommend several popular football games to you.
Football Manager 2023 Mobile Apk (All)
Dream League Soccer Mod Apk (Mod Menu)
Search playmods for more mod games: www.playmods.net