Bear Bakery Merge Tycoon Mod APK Download & Guide

gsc

5752

2023-01-16
Bear Bakery is an idle merge-based game where the player takes on the role of a manager. Players can combine items to bake, decorate and upgrade the store. The player's role is to satisfy the needs of each customer. From now on, start a happy day with cute animal friends.
How to Download Bear Bakery Merge Tycoon Mod APK
PlayMods has prepared rich cracking content of this game for players, click the link to download it quickly: Bear Bakery Merge Tycoon Mod APK
Cracked Content
1. Not cooling the dough
2. No cooling time for sale
3. No cooling marketing
4. Customer movement speed
5. Free VIP
The game starts with a tutorial that explains how to bake, decorate, and manipulate other features of the game. Mr. Xiong started to explain how the bread is made. For baking, a tapping and merging system is used. The faster the player taps, the less time it takes to knead the dough.
The game is played using the merge-and-click system. So it belongs to the category of casual games. The environment of the game is warm and gives a bakery feel. The game revolves around an idle role-playing system where the player must deliver goods to a bakery he or she owns. The game has several elements that any real-life bakery would have. It has an assistant supervisor Mr. Bear, receptionist Amber, construction Tweetie and marketer Snitch. In the tutorial of the game, these NPCs are all functions to help players understand the game.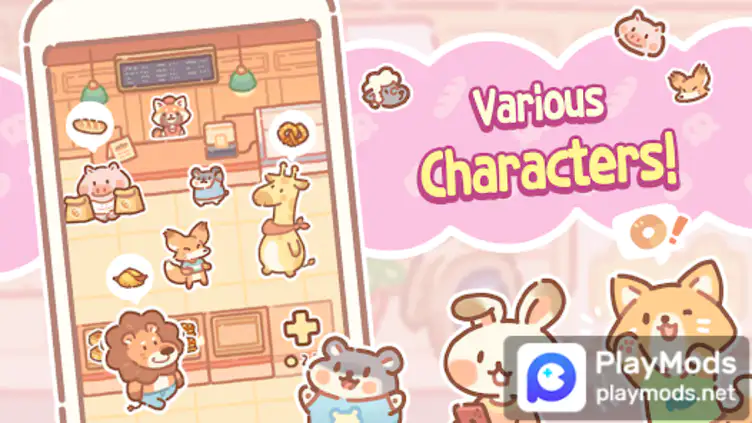 In-Game Events and Features
Players can participate in some limited-time events in hopes of earning limited-edition furniture that can be placed in staff rooms. These events include a different location where the player must deliver what the client in the new location wants. Another key feature of the game is its delivery service. The delivery system can meet the needs of customers. According to this, players must craft specific items and then sell them to customers.
Bear Bakery Merge Tycoon Mod APK Guide
1. Make sure to keep the bread on the display panel at all times. This will ensure a constant influx of customers.
2. Make sure the store is cleaned as this affects customer service and gives players a certain amount of currency.
3. Keep upgrading the staff room with furniture as this also helps players grow
4. Make sure to upgrade your staff as this will reduce their hours of work and time to deliver the product.
5. Remember to take part in events and quests as they offer a lot of collectibles and currency.
If you like this game then you can try Hamster Cookie Factory - Tycoon Game Mod Apk
Search playmods for more mod games: www.playmods.net